Snorting homebrew covid vaxx with the broskies (or the ladies at the country club)
In which Emmi talks to a professional chemist named Jackie on Signal about home-made COVID-19 vaccinations.
Emmi
Do u want to write a short blog about these biohack covid vaccines going around for theplausiblepossible.com ?
Jackie
Reading about it now
I got big doubts at "we already lost count of how many people we've administered it to"
Emmi
There's multiple things. There's less wrong and this technology review:
Some scientists are taking a DIY coronavirus vaccine, and nobody knows if it's legal or if it works – MIT Technology Review
Jackie
That's the one I'm reading
Emmi
I mean aside from how legit is this, the big question for tpp would be how would this impact societies?
Oh there's also a Less Wrong post.
[snippet: Making Vaccine – LessWrong
Back in December, I asked how hard it would be to make a vaccine for oneself. Several people pointed to radvac. It was a best-case scenario: an open-source vaccine design, made for self-experimenters, dead simple to make with readily-available materials, well-explained reasoning about the design, and with the name of one of the world's more competent biologists (who I already knew of beforehand) stamped on the whitepaper. My girlfriend and I made a batch a week ago and took our first booster yesterday. This post talks a bit about the process, a bit about our plan, and a bit about motivations. ]
Emmi
Like Can anyone just access peptides anywhere? How would Pharma react? Probably safety regulations designed to protect monopoly. Would that stop illegal manufacture? Seems complicated but like cheap vaccines in places that are systematically denied medical access like Africa etc could end a form of genocide. Or hella ppl could die from scams idk
Jackie
How long do you think it would take the feds to move in on shutting these ppl down w distributing information? How viral would this have to go for that to happen and would it be viral enough to grow even larger with other distributions
Emmi
Well u can't repress the internet. Like we'd torrent and p2p and mirror
Jackie
But you also have to impress the internet. And that's v hard to do w no data
Emmi
Like a whole village somewhere in Italy all does this and doesn't get a pandemic would impress the internet
Jackie
So the internet would require solid data within that same time frame
Emmi
Maybe I mean internet already impressed some extent by this zero data shit. A clean open way for people to add their stories to make it a citizen science would help
Jackie
If that happens, society is wrekt
Emmi
Also thinking about our anti vaxxer friend here going on about big pharma. Would she take this? Drug dealers would probably get in on it
Jackie
"The crunchy crowd needs their shit served up in bananas but the bunker crowd would def snort some peptides "

Jackie, 9:52 pm somewhere
Emmi
lmaooo. At least in terms of underground distribution infrastructure i mean re dealers. This reminds me of why I want both blogs and sci fi. Like a short story on this would also b incredible
Jackie
I think easily a lot of scientists and doctors/nurses would lowkey distribute
Emmi
Churches?
Jackie
And if it had that support, there's no stopping it. Catholic churches would do it for sure. Probably many others. I could def see all them wild southern church folk having snorting parties in the pews
Emmi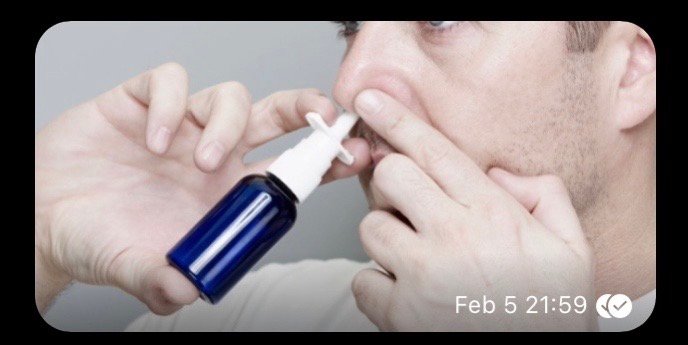 in the pews or at with the ladies at a country club. Versatile.
Jackie
Would be lots of cop-like folks I reckon in those spaces so realistically their distribution would be a little more lowkey than that hehe
Emmi
meanwhile, the broskies
Jackie
That it's not an injection would make it v appealing to many who would not likely ever consider it otherwise. I can't even express how irritating the slowness of corporate manufacturing is, and all the red tape that goes into even just making your product better? Or fixing an ongoing issue. And the way so many ppl push for VERY complicated processes that will never make it anywhere makes me feel like they're all plants, lol. I'm convinced more & more every day that what we make only matters in the context of IP to be used for clout to buy and sell more companies. I think the world is primed for something like this vaccine or similar to emerge
There's also that whole thing was v related to the developments r&d scientists try to put together without understanding a second of manufacturing. Mfg makes big equipment mistakes based on the complicated processes handed to them by r&d + the scope of the product, and then the technology is obsolete in 5 yrs or less if it's even scalable. It's dumb. Everybody wants to be the person who invented something no one else could ever do without them.
Realistically tho, lots of ppl can do all kinds of shit w v basic instructions. We all build our own furniture ffs if it comes w the tools and pictures. We can def make vaccines.
Emmi
WE CAN DEF SNORT SOME PEPTIDES
Jackie
How much do you think politicization would affect it? I don't know much history of anything similar happening
Emmi
I don't know if the comparison to torrenting makes sense. 3d printing guns or p2p are similar issues of being maybe impossible to regulate tho.
Jackie
What about like social politics of some left vs right thing
Emmi
It transcends that is my first thought, so I'm wondering ways ppl could be pitted against each other, like what happened w masks. Among fringe groups maybe non-sectarian. Unfortunately I think dems may b against homebrew vaxx with Republicans for it. Dems big gov. Right no red tape.
Jackie
Yeah I can easily see that. Dems would work hard to show its dangerous. They would push for an industrial proprietary version
The final showdown: capitalism vs your nana & her bananas

jackiieieieie
Emmi
i think many centralized power would be in total agreement about the threat and would all be corruptly hacking it but the question that I don't know is: Is it viable in the first place that some form of this could exist in a way that is very difficult for any central power losing capital to restrict? If not what are the choke points? Can they be surpassed? bc if there's a small probability of yes lmao it's worth exploring
Jackie
Let me look at ingredients…. Accessibility to ingredients is definitely a possible chokehold since they're things that are already regulated, but what they can't really do without mass genocide is limit our access to extracting amino acids from food/plants/trees/whatever and making our own peptides [Disclaimer: I don't know shit about peptides]. And that's where your crunchies get in the game. but yah they're regulated now but seemingly people can just get them pretty easily though if they have like the collective money.
If ppl have a level of access and ease, there's no corporate entity that has anything to gain from restrictions at that level. They'll be competitors in the market for like, neatly packaged kits and little upgrades, but since the basics could potentially be widespread, there's nothing really but for them to jump in and build a market around it. Idk if it's fortunate or unfortunate, but corporations vying for your dollars might kill that particular collective of homebrew, but mums and dads and sisters and nanas would be alive, remembering how they took a chance at something wild and potentially saved themselves & millions of ppl & that high will have lasting effects
Emmi
exactly
Jackie
The biggest boost to science is success at something you never thought you were capable of & not coincidentally, love & joy & smashing walls erected by those who seek to keep us boxed in all work similarly. But, you'd need to get a lot of these peptides from blood. I don't know enough of that field off the top of my head so I'd need to look into how that could be done if peptides aren't readily available. I know a lot of purification techniques to get igg and stuff removed from your blood, but now everyone is deeper tho. aint just cutting some stuff in their kitchen and doing lines. I need to look into what's already been done synthetically in that realm w non-human amino acids
Emmi
It's amazing how much you know about this compared to me lol
Sarah Constantin on Twitter:
Jackie
Ya the white paper to me reads like a lot of nonsense but I haven dived into the mechanisms. At surface level it just seems like they're saying it'll totes work if you just dump all these things together bc they'll just naturally match up!
Emmi
Okay so maybe not this homebrew vaxx but the trend is still earth-shattering in implications lol. we should just publish this conversation as an article
it's perfect. it's an advertisement for signal.
---
rip buddy